Donald J. Morgan, Senior Partner & Founder
 Donald J. Morgan is Senior Partner, Chairman and Co-Founder of GMA Research Corporation, headquarters in Bellevue, Washington, a leading national independent marketing and public opinion research firm founded in 1970.
Representative GMA clients include Boeing, Bank of America, Macy's, United Airlines,  ABC  Television, Holland America Cruise Line, Microsoft, Nintendo, Starbucks, Longs Drugs, Kroger Stores, Sleep Train/Sleep Country USA, Sunkist, Cinnabon, Destination Marketing Association International.
Mr. Morgan has an MBA with an emphasis in Management Science and Research. He has lectured and taught at several leading universities and is a frequent guest speaker throughout the country on research techniques, consumer trends. He has also conducted seminars on research planning including focus groups and survey methods.
He has authored a number of articles and white papers on research methods, marketing and public opinion surveys. Most recently he was featured in American Marketing Association's Marketing News.
Current professional associations include Marketing and Communications Executives International, European Society for Marketing Research, World Association for Public Opinion Research. Mr. Morgan has served as a Board of Director and Chapter President of the American Marketing Association.
Mr. Morgan is also active in non-profit and arts organizations including symphony, opera, repertory theatre and a number of other groups.
Mr. Morgan has also been featured in Time Magazine and on a CBS Television special on marketing research for the newspaper industry. He also contributed to the best selling business book titled The Brand Mindset by Duane Knapp, published by McGraw-Hill.
Mr. Morgan is an expert witness in litigation involving trade dress, marketing and advertising research, public opinion surveys and polls.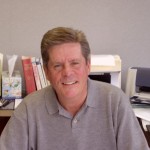 Richard C. Anderson, Senior Partner
Richard Anderson is Senior Partner and President of GMA Research Corporation, headquarters in Bellevue, Washington, a leading national independent marketing and public opinion research firm founded in 1970. Mr. Anderson joined GMA Research in 1984, bringing with him diverse and extensive experience in consumer and industrial marketing management.
Mr. Anderson is a proven marketing professional with direct experience in market research and analysis, preparation and execution of marketing and sales plans, development of strategic marketing action programs, sales management, management of dealer and distributor programs, price analysis and pricing strategy, and product planning.
Prior to joining GMA, Mr. Anderson formed an independent marketing consulting firm, specializing as a source of professional counsel in marketing planning and strategic marketing.
Mr. Anderson served as Director of Marketing, Planning and Director of Sales for Holland America Line in Seattle, Washington from 1978 to 1982. As Director of Sales, Mr. Anderson directed the development and execution of sales planning for this operator of cruises and tours. Primary responsibilities included formulating sales plans to obtain corporate objectives and managing implementation through outside and inside sales departments. As Director of Marketing and Planning, Mr. Anderson was responsible for marketing, product development and strategic planning. Based on the 1981 marketing plan, the firm was named marketing company of the year American Marketing Association.
Prior to joining Holland America Line, Mr. Anderson was corporate Marketing Manager for Airborne Freight Corporation of Seattle.
Mr. Anderson has an MBA in marketing from the University of Washington.